Procel Lightning Protection started in 1993 by a member of the Standards Committee to service the lightning protection needs of industry.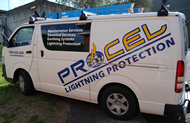 In 2004 Procel was purchased by its current owner and has since grown to include pneumatic air tube installation and servicing.
Based in a leafy northern suburb of
Sydney
, Procel is an wholly Australian-owned and operated company.
Procel Lightning Protection specialises in specific and cost-effective solutions for lightning protection and resultant power disturbance problems.